An Interview with Flora Beverley

By Giulio Beltramo, Social Media and Marketing Manager

Recently we had the pleasure of talking to Flora Beverley, fitness model, blogger and social media consultant based in London. She shared her thoughts on the fashion industry and where she thinks the world is headed. Read the full interview, led by Giulio Beltramo, below!
1. What are your wardrobe staples/fashion go to's?

I'm a big fan of comfort, so you'll often find me in leggings or a jumpsuit - anything that allows me to move while looking decent too! Autumn is my favourite season for fashion and I love midi dresses with knee high boots. I'm sure I've worn the same joggers and baggy t-shirt about 30 times over lockdown though - I'm not the type of person who will dress up for a WFH day.
2. Who is your Styles muse or source of inspiration?

I have quite an eclectic mix of styles which I don't get from any one person. Having said that, I really appreciated whoever curated Alexis' wardrobe in Schitt's Creek. I'm quite sure I would wear any of those outfits given half the chance.

3. What trends are you loving right now in fashion?

I try to avoid shopping trends, because within a couple of months I'm usually bored of them. I find shopping for items that I love (regardless of whether they're 'in fashion') means that I'll wear them over and over again. I don't want to look like everyone else on the street. I like having a strange mix of clothes that I'll wear for decades to come! I find if you shop looks that are in fashion, you're out of fashion a season later, whereas when you just shop for unique pieces you love, you can never be out of fashion, because you were never in fashion to begin with!

4. Do you have a favourite LDC designer or favorite piece (or both)??

I'm a big fan of Birdsong and the work they're doing on sustainability and slow fashion. Other favourite looks from LDC include the Floral Embellished Flutter Sleeve Midi Dress by Sarvin (the dress of my dreams) and I love the Doria Henna Top and matching skirt by Aggi.

5. How did you get into becoming a public figure and influencer, and what are your top tips for building your own brand and identity

I started Instagram around 9 years ago, so my growth was super organic and slow, just like I like my fashion! It wasn't purposeful at all, but I love the community I've built across my social media channels. I think social media is such a two dimensional space sometimes, and it's so nice to have followers who are inquisitive, engaged and questioning on a range of topics, from fitness to sustainability to science. Building your brand online can feel really difficult, but putting in the time and work to create the space you want is totally worth it. I created a social media growth guide at the beginning of lockdown that's perfect for anyone looking to build a brand using social media, whether it's for an existing brand or as an individual.

6. You are a fitness enthusiast, it goes without say how important an active life is, what are your recommendations on keeping a good body and mind balance?

Fitness and movement are a key part of my life, partly for physical health but mostly for the positive impact they have on my mood and mental health. I think a lot of people get into fitness for the wrong reasons - I know I did - but then find another reason to keep going. Whether it's the community, the feel-good aspect, the aesthetic benefits or long term health improvements, find your why! We are built to move, not sit around all day, so I would say try to fit in a bit of activity everyday, be it walking to work, dancing around the house or doing a spin class. Try to find something you enjoy too, as it'll then feel like less of a chore!

7. What, in your opinion, is something we all need to change in our lives to be conscious consumers?

In my opinion we all just need to consume less. The advertising industry compounds the issue, because we all feel like we need more all the time, whether that's clothing, household goods or cars. Trying to be as sustainable as possible also needs to involve buying less overall. I try not to get swayed by trends and think long and hard before buying something new. Secondhand is also great - I love that there's a secondhand revolution at the moment and I hope more people see how great it can be!

8. Where would you like to see the fashion industry head?

Currently I think sustainability is seen as an optional extra when it comes to fashion, and I'd love to see it become more mainstream. Even the sustainability we do have isn't entirely inclusive, often with limited size options and straight-sized models. The fashion industry has a history of being elitist and exclusionary and I would love to see this change in favour of warmth and inclusivity. All these issues are intersectional, so it would be great to see some real game-changers leading the industry down a better path. Without that I see the fashion industry becoming more and more out of touch with the way the rest of the world is going.

9. What is the most important take away of 2020 so far?

For me, 2020 has shown me exactly what's important to me and what isn't. I don't need all the frills and fabulousness of life, fun though they are. What makes me happy is good friends, my family and the great outdoors. That's really all I need.

10. Which three people, dead or alive, would you want to have dinner with?

Great question! Probably Louis Theroux, because I have SO many questions to ask him... Emma Watson, because I feel like we have a lot to discuss and we have a lot of similar interests and my boyfriend, because if I tried to tell him I'd had dinner with Louis Theroux and Emma Watson he'd never forgive me if I didn't invite him too.

It was such a pleasure talking to Flora Beverley, finding out how she uses her platform to voice such incredible and meaningful messages.
Shop Flora's Personal Faves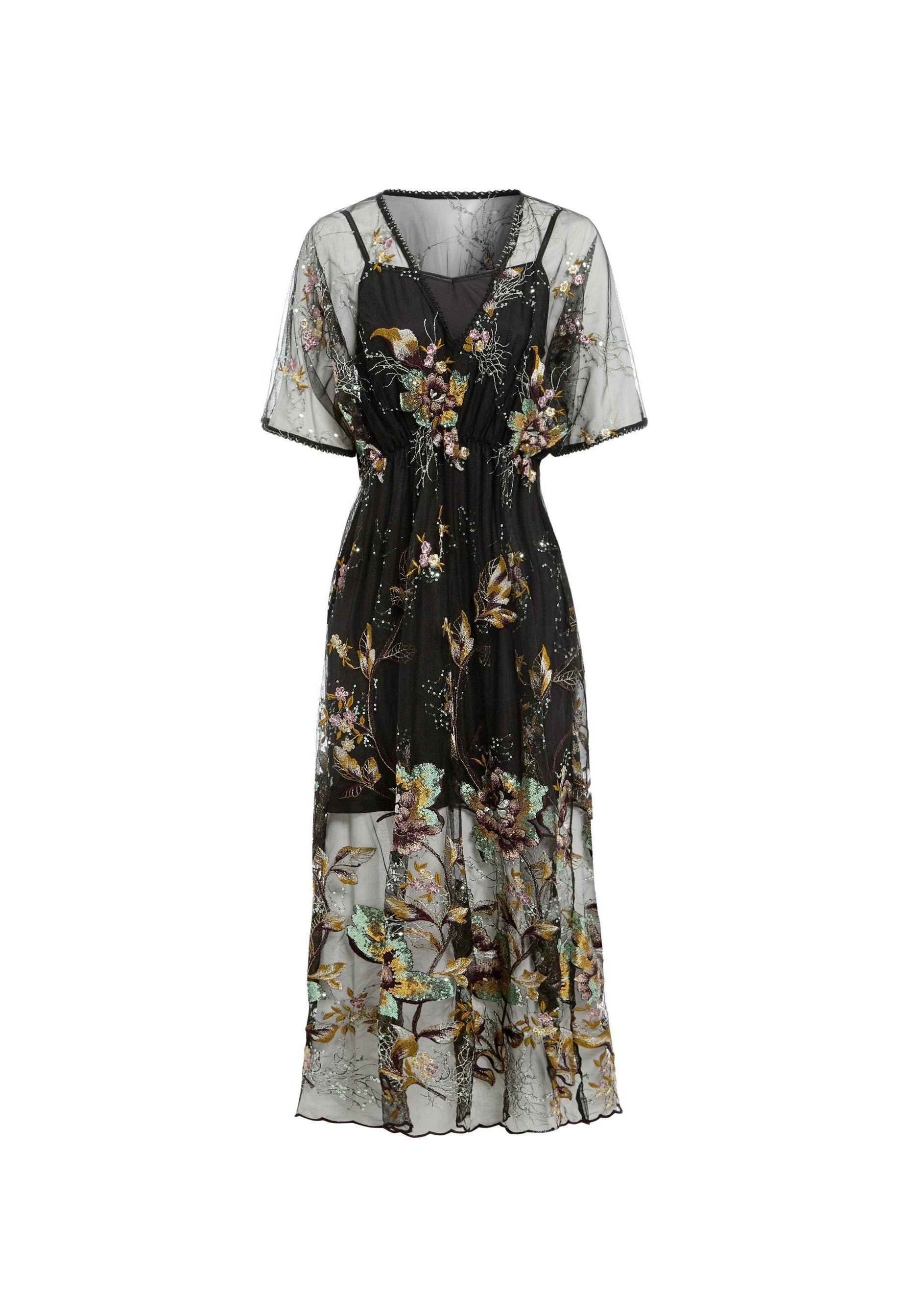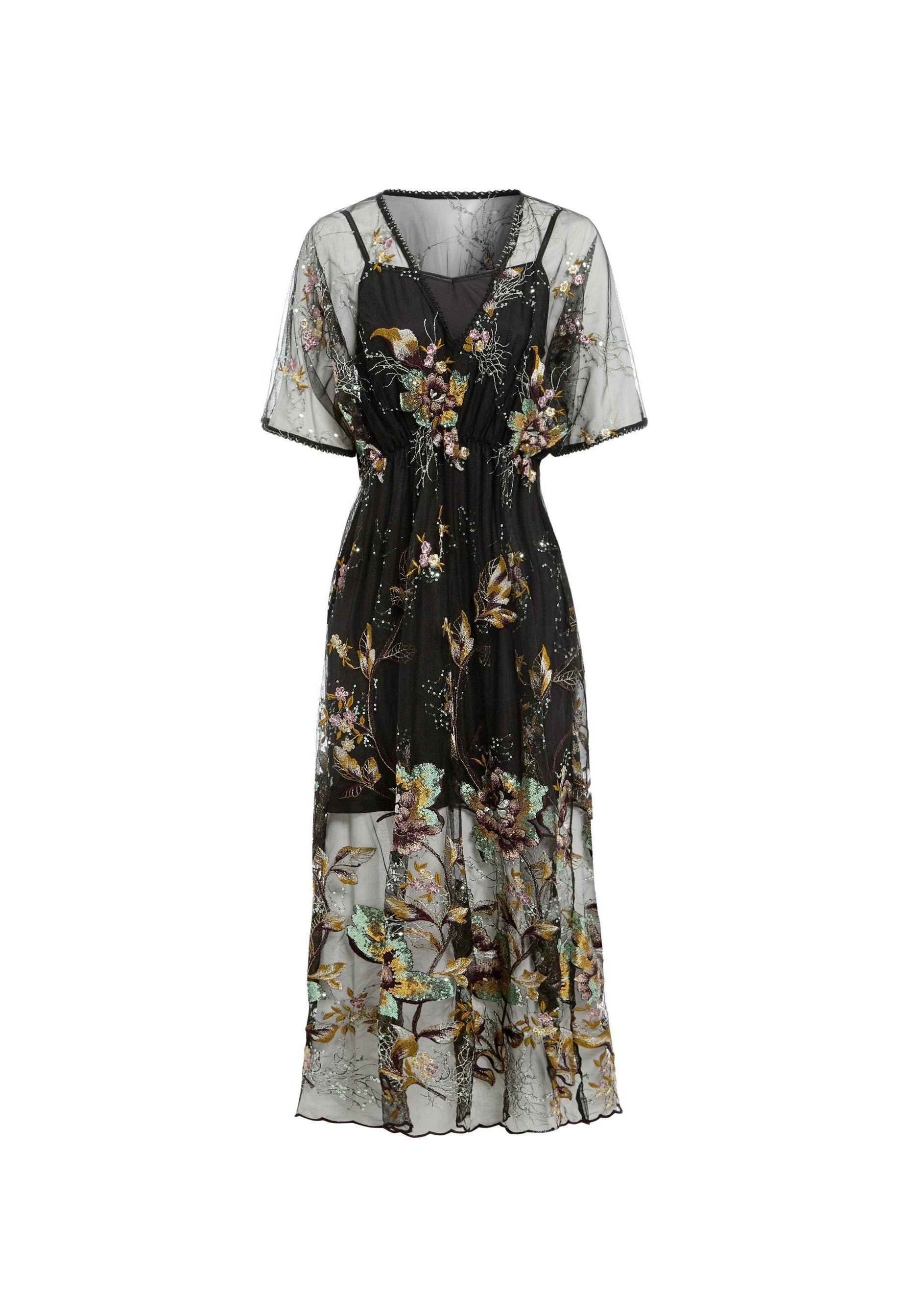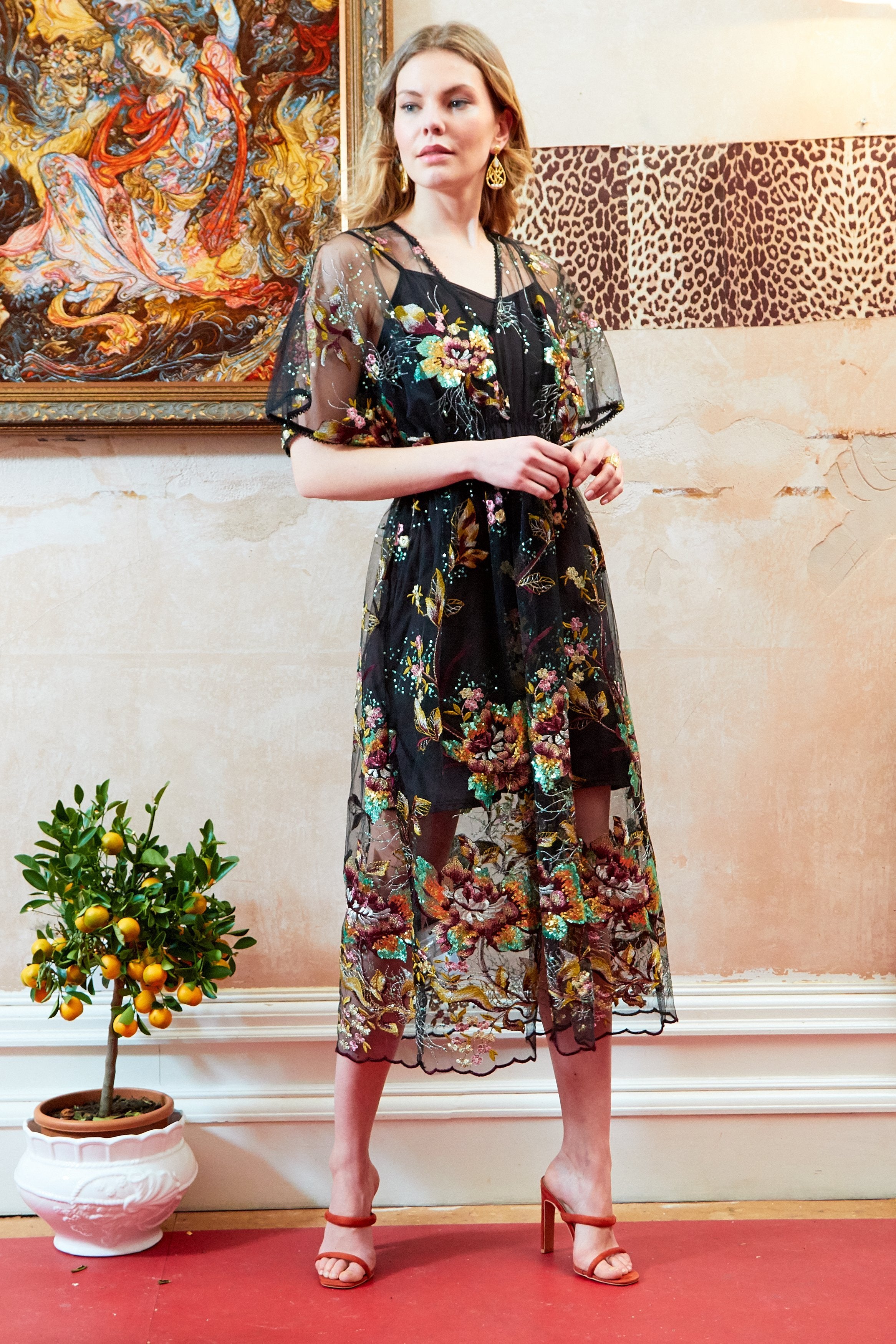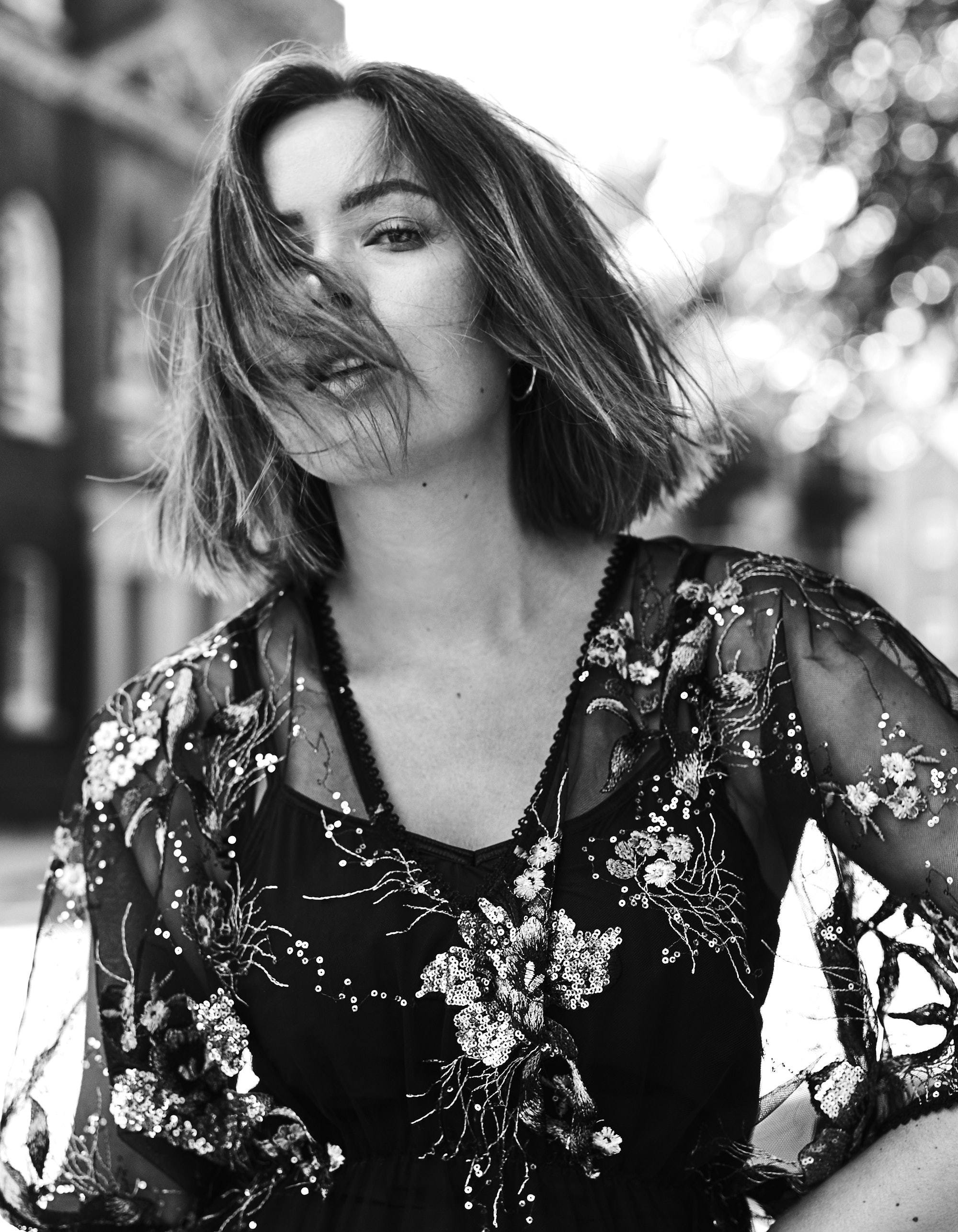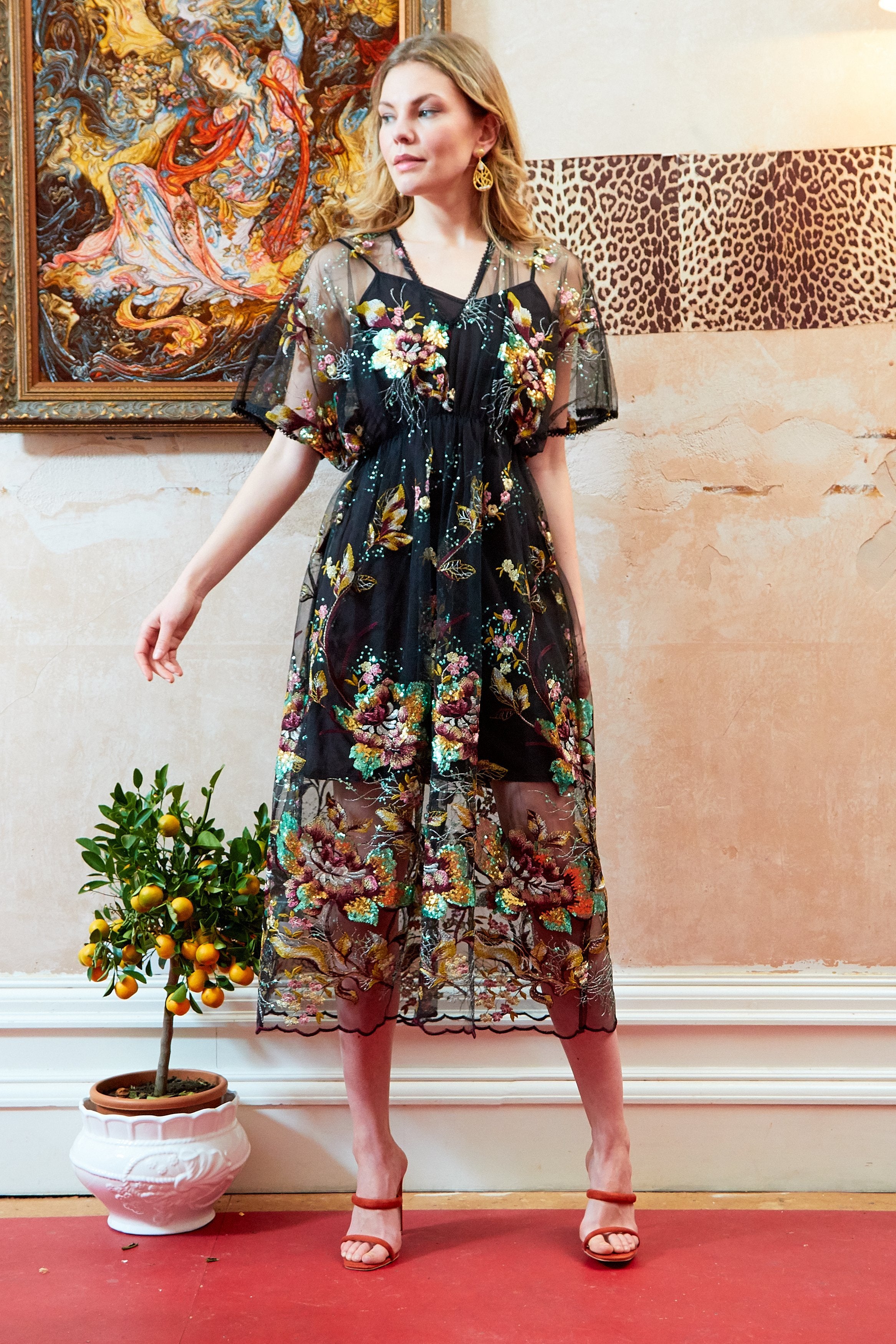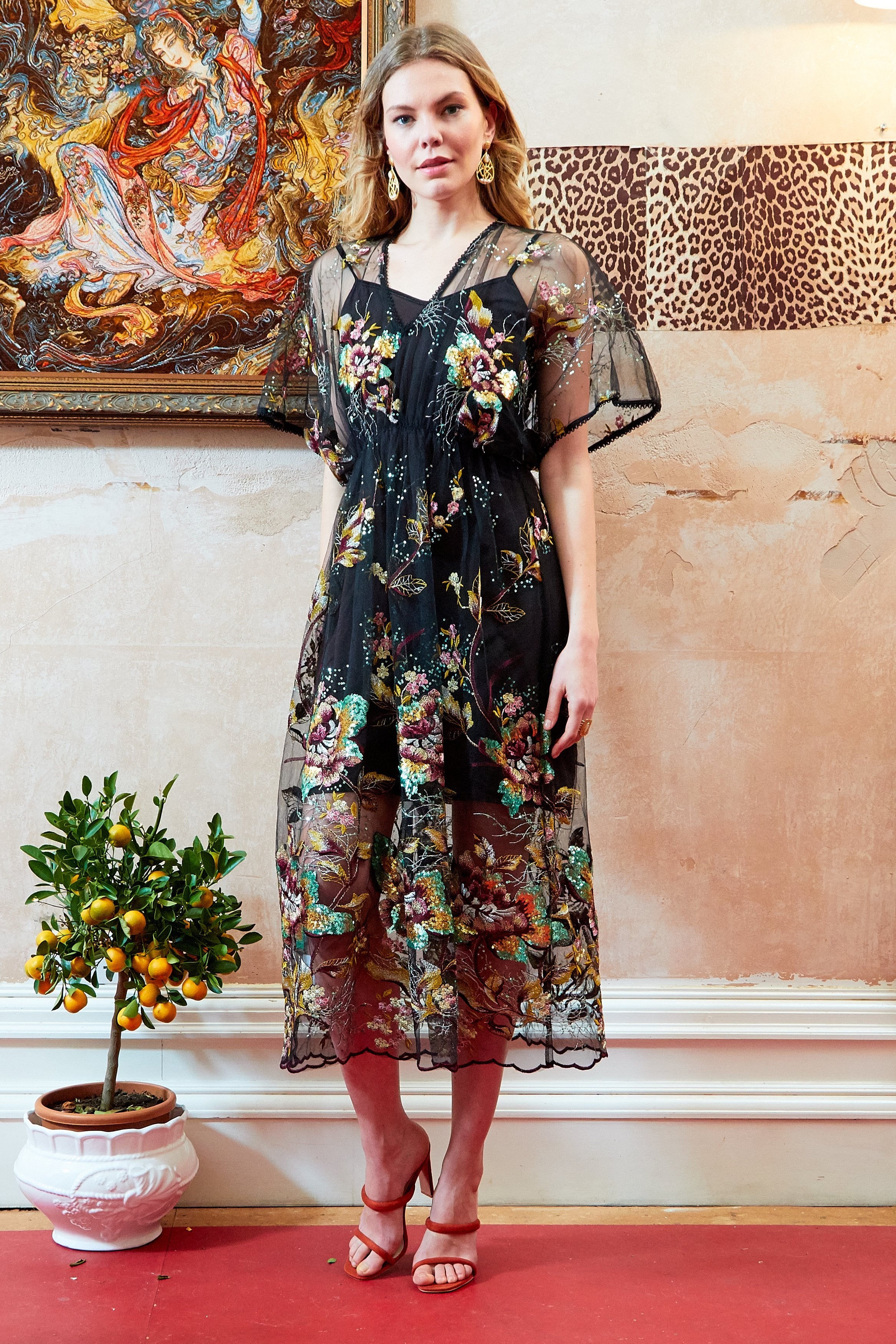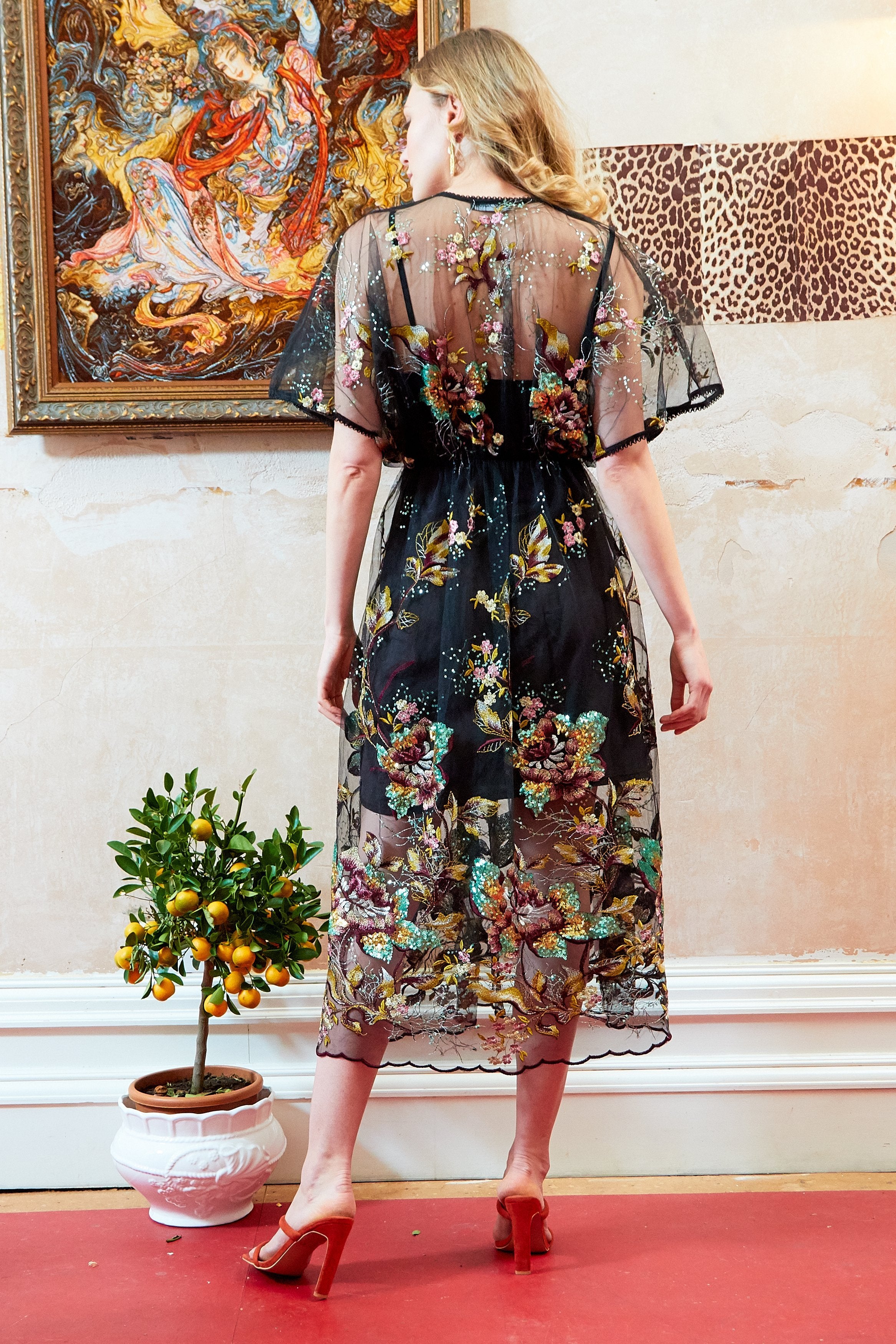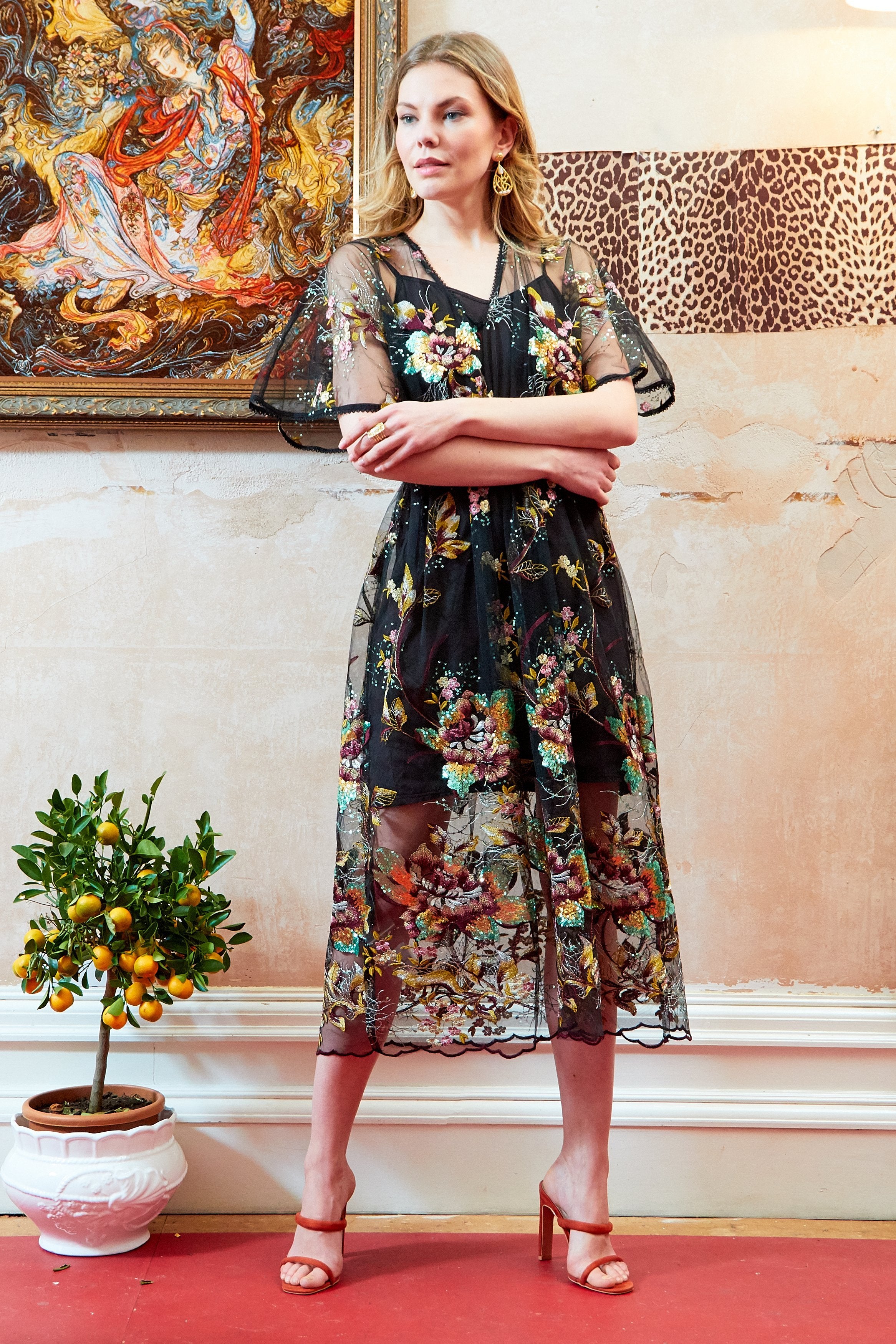 Natalie - Floral Embellished Flutter Sleeve Midi Dress
$562.00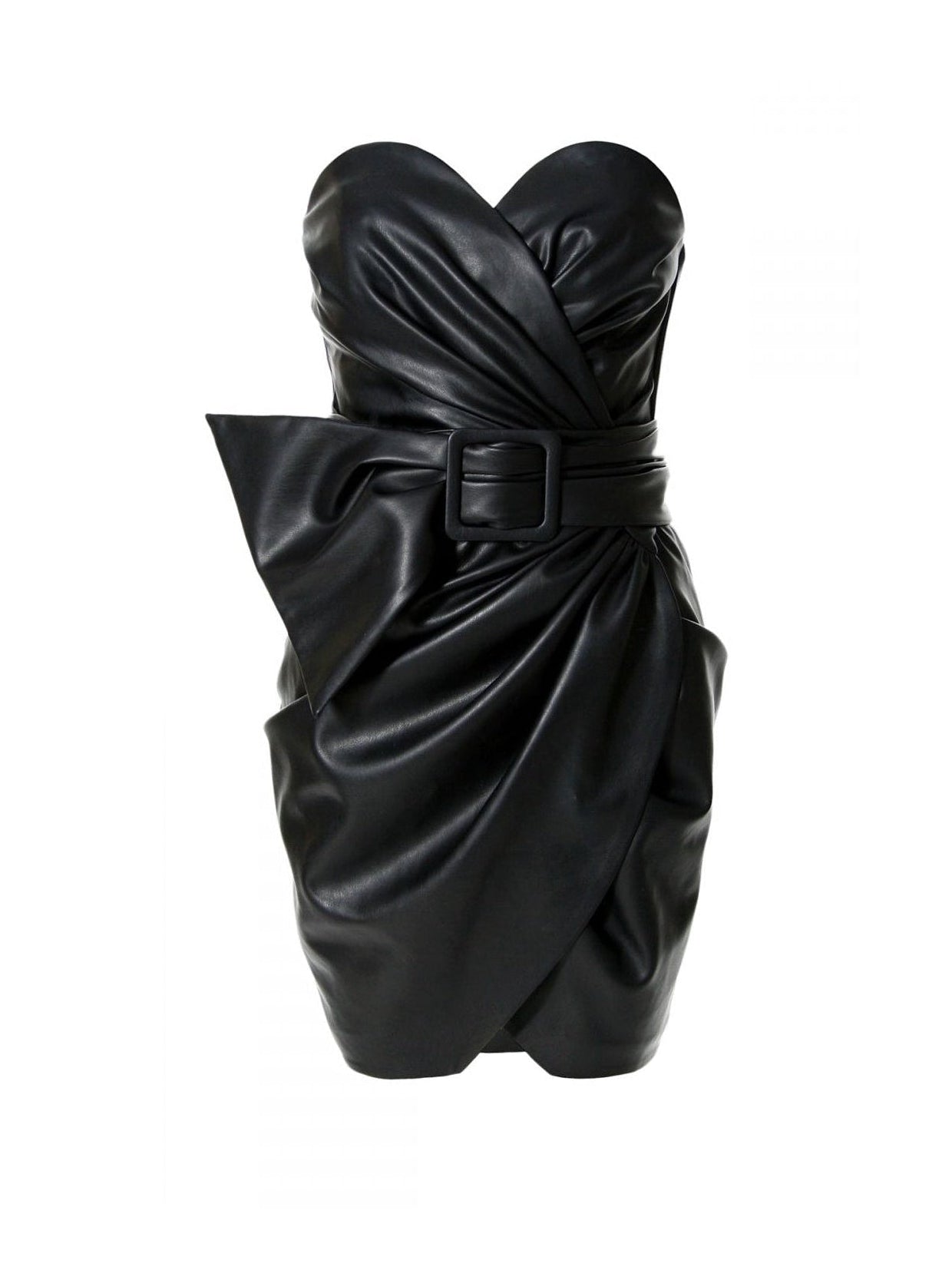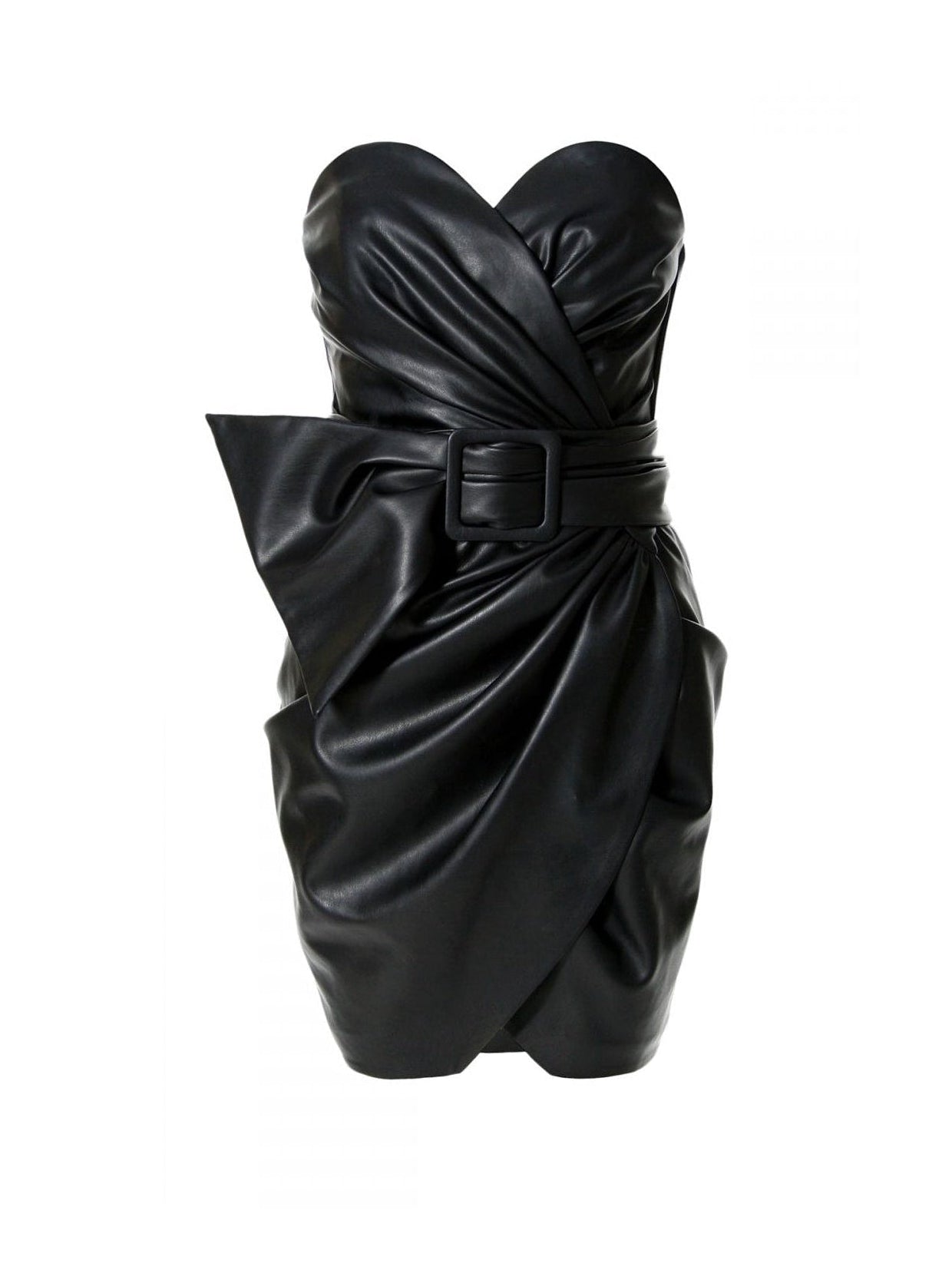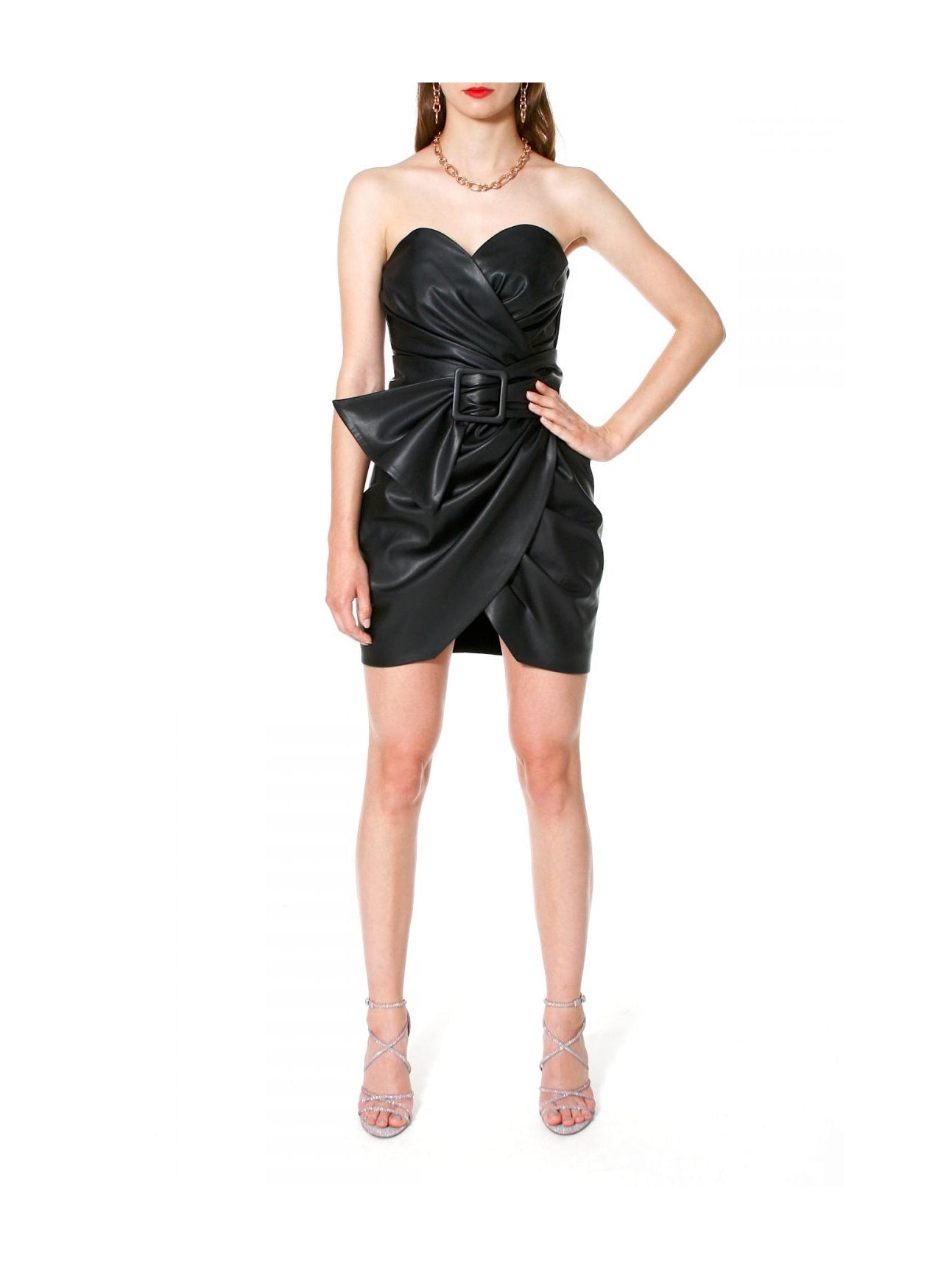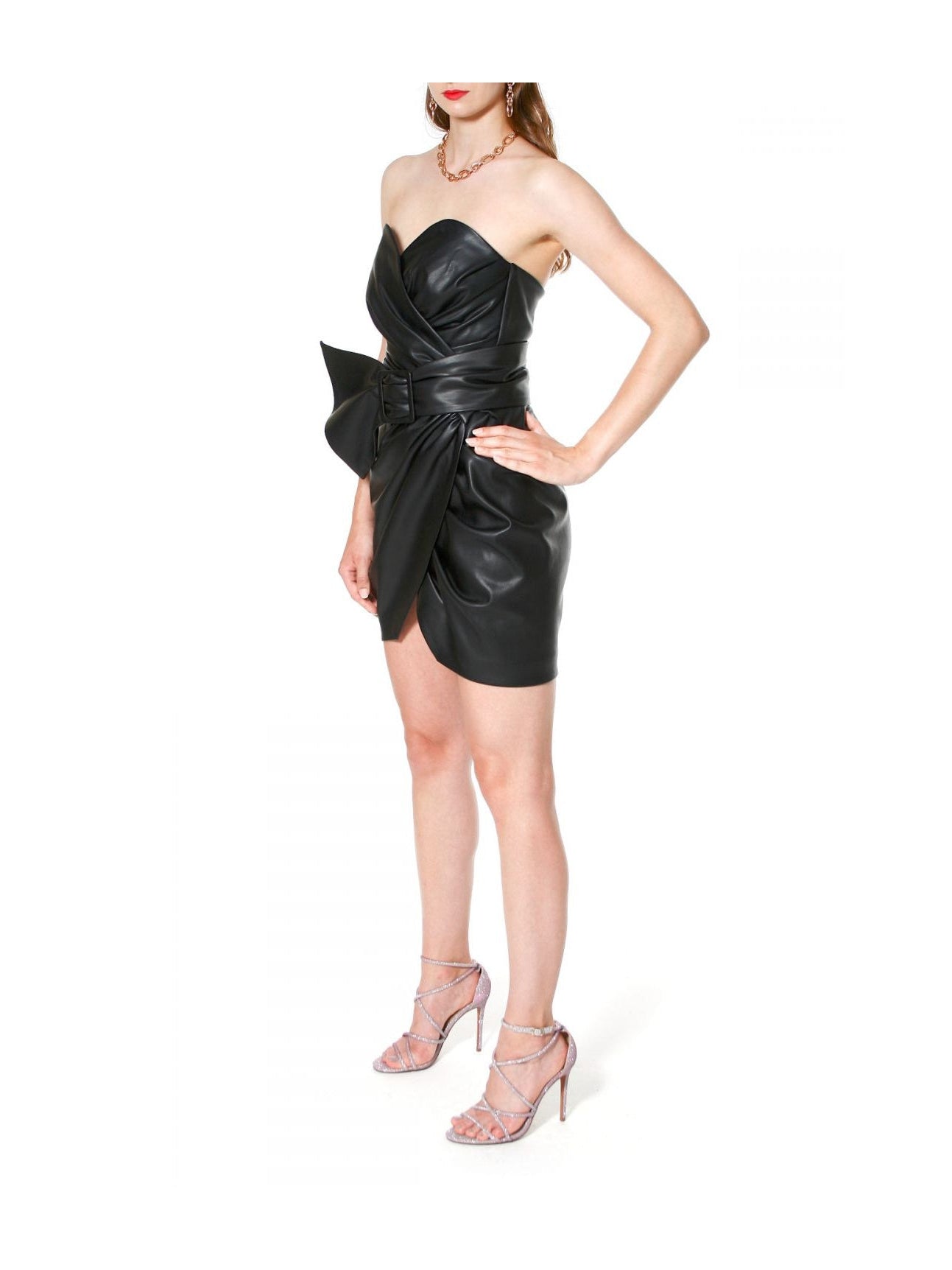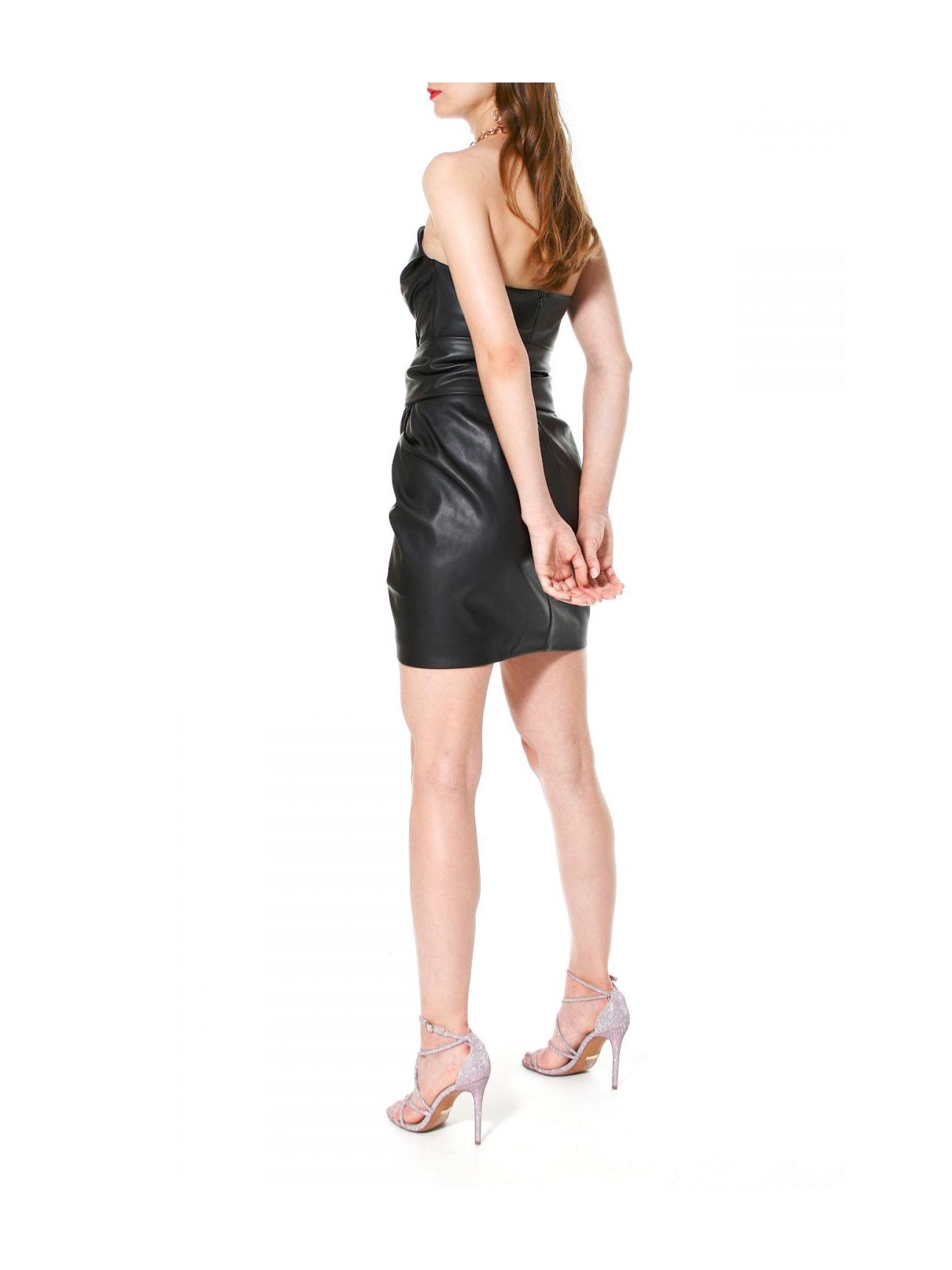 Alessandra Cynical Black Dress
$352.00
Like what you've read? Share it with your community!